As a business owner, creating content is now part of your regular marketing activity. It can feel full on – and frustrating – when everyone else seems to be so great at social media content. Here's my favourite place to get inspiration so you can get back into business joy and out of overwhelm.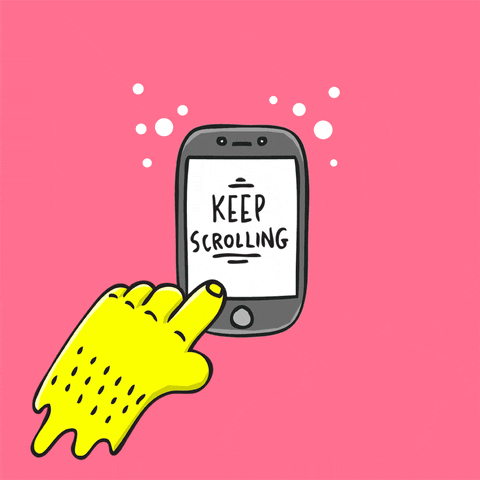 Creating content for social media
How often do you 'check out' social media to get some ideas for your own content? Only for it to turn into 40 minutes of absorbing other people's content and feeling like absolute crap by the end of it?

It's such a common thing that there's a name for it – DOOM SCROLLING. You start off feeling great, positive, excited about learning some stuff and you end with a hunched back, feeling like everyone in the universe has a better handle on business than you do.
Even worse – you spend all that time looking to get inspired and you just feel like a flump – with nothing in your head at all and there's an edgy feeling of stress because you've used up 40 minutes on nothing and there's still a huge to-do list waiting for you.
Not good.
But there is another way to use social media for inspiration and I've given it a whole new name.
Forget doom scrolling and try: BOOM SCROLLING

How to avoid social media overwhelm
The idea of BOOM scrolling came to me on a coaching call with one of my yoga teacher clients.

She was struggling to come up with content ideas – and like most busy business owners with kids and lives to look after – she was short on time. Coming up with a whole brand new content plan felt huge. Procrastination and overwhelm were her everyday settings. She would start each day promising that she'd schedule in time for 'content' and 'research' and 'planning' and every day it got shoved into the next day's list.

Sound familiar?!

My client (let's call her Delia) needed inspiration without the doom scrolling, and it had to be easy enough for her to actually do it.
ENTER….BOOM! SCROLLING!
Boom Scrolling is…

The art of ignoring EVERYBODY else's content on social media and focussing entirely on your own. BOOM!
What? Even leaders in my niche?
God yes, especially them!
What? Even my competitors and peers?
Abso-bloody-lutely!
What about people who are crushing it on socials but aren't connected to me and my work?
YES – even them!
Protecting your mental health and productivity on social media
Boom Scrolling is a way to reconnect with your own content, your own message, your own community* in a positive, inspiring and thoughtful way. You can't do that if you're seeing how other people do it their way. No matter what your intentions are when you start out you'll end up feeling like:
Other people have it sussed more than you (and are better at X, Y and Z than you are)
Other people are funnier, more creative, more productive than you are
Your overall message is not relevant, valid, important
You don't have time to create content as good as all the stuff you see
Mindset monkeys in other words.
Why focussing on your own content will inspire you
You might think scrolling back through your OWN content is a waste of time. And of course, there's the (very real) cringe factor to contend with. Even famous film stars claim they can't watch their own films. So it's important to go into this task with a kind to yourself mindset. You're not looking for ways to tear yourself down, you're looking for ideas and confirmation that you're good at your job.
If you commit to the task you'll start to feel inspired. You'll get ideas for what to create more of, what to change up and what to stop doing. And you'll come out of the research session with a list of things to do, rather than a list of reasons you feel crap about yourself.
Here's a few things to keep in mind as you dive into a bit of BOOM Scrolling and read through your captions and watch your videos back:
Choose your content themes & pillars
Pay attention to the themes that come up – can you pull out 4? These are most likely your content pillars. Once you know what holds your content up – it's easier to create more content inside those themes.
Identify your strongest, most useful content
While you're going through your content, pay attention to the posts that performed best. You can use insights inside the platform, or just check out which ones had the most comments, or engagement in general.
Maybe there are some posts that you like better than others or are most proud of. Think about what elements made them work better than others? Was it the image? The caption? The overall message? You're going to want to do more posts like this. Because you've clearly enjoyed creating them, or your audience has enjoyed engaging with them – and both are feel-good factors for content creation.
Do people know what you sell?
When you read your content do you make it obvious what you do for people? If someone landed on your profile – would they know what they could buy from you or book you for? How much work would it take for them to figure it out for themselves?
Simplicity and clarity is SO important when you're creating content. We are all goldfish when it comes to our attention span – if we have to work for information or understanding we're going to switch off. Or go looking for someone else to help us with our problem. If you haven't been clear up till now – this is your chance to get VERY obvious. The first thing to focus on is what you do for other people. What is the THING they will walk away from when they work with you? What is the problem you solve for them? That's the one thing people care most about.
Creating content from the BOOM scroll (aka repurposing your content)
Repurposing your content is always a good idea, but if you don't do it already (I confess this is something I'm only JUST starting to focus on), once you've done the BOOM scroll, you'll be in a much better position to repurpose new content from the old. Try these ideas:
Update the info: read through your old posts and rewrite them with updated information. Refresh your services, your prices, your website details.
Turn lives / video into written content: watch your past lives and write out 5 key points you can turn into brand new posts
Carousels: Choose 10 pictures you've used in social posts and create a carousel / collection
Posts to emails: Take your favourite posts and turn them into longer emails for your subscribers.
Don't have an email list? Write out 10 tips or bits of advice you've previously shared and turn it into a free guide for people who join your mailing list
Time travel posts: Create a two-picture carousel post using a photo of you from the beginning of your feed (and business journey) and a more recent one and talk about who you were then and now.
Posts to video: Take all your favourite written posts and re-do them as videos, lives or Reels.

The easy way to create content
Sometimes we convince ourselves that things have to be difficult or tricky to have value in them. But you've already done the hard work – you've created content (good or bad) that can now be improved, updated and re-used.
It's like a gift from your past self! Can I get a 'THANK YOU ME?!'
Even if you don't do anything practical from the BOOM scroll, you've spent 40 minutes going over your OWN work rather than someone else's. Marvel at how far you've come, at how funny you can be, at your wise moments and your dorkier moments.

Appreciate every single post because they are a part of you – and you are WONDERFUL.
What do you reckon – is this something you could get behind? Don't forget to tag me if you share some BOOM scroll content soon. I'd love to support you in your content, so use the tags below!
The Launch Content Collaborator on Instagram | on Facebook | on LinkedIn .
---
*A note about the word 'community'. I call you – my followers, audience, subscribers my 'community' rather than 'followers'. For me this whole business journey I'm on can ONLY be enjoyable if I have ace women like you in my gang. I love being my own boss, I love working for myself but I don't see myself as a 'solopreneur' because my mission is to create a community. I'm not the leader and you're DEFINITELY not the follower. I know stuff, you know stuff and together we are stronger. So whenever you see me talk about my community it's the people I choose to have around me – and the people who choose to have me around.

If you'd like to join a really cool part of my community I write a weekly email with all kinds of useful, inspiring, motivating and sometimes plain hilarious tools and ideas to help YOU make sales online through your launch plans and content.